10 Ways to Secure Your Home Network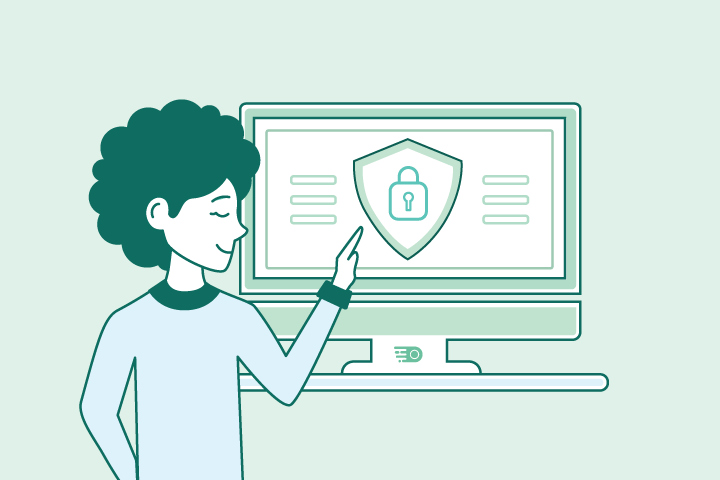 HighSpeedOptions prides itself on providing honest, quality content. While we may be compensated when you make a purchase through links on our site, all opinions are our own. Here's how we make money.
Setting up newer electronics at home – be it a smart TV or computer – is pretty simple these days. Yet, even the best devices and software can lack proper internet security. When connecting anything to your home network, you want to ensure that those devices are secure before granting them access to the internet.
Here are a few easy steps to protect your home network and data from any WiFi leeches and cybercriminals nearby.
Search top internet providers for the best experience on your home network.
Importance of Securing Your Home Network
In today's world, a single household might have an extensive range of wireless devices from computers and smartphones to TVs and smart appliances. Being connected is great, but it's vital to protect your network.
If someone can access your WiFi and view your files, it leaves you vulnerable and at risk of having your private information stolen. Hackers can even use up your bandwidth or perform illegal activities through your connection, leaving you responsible.
10 Ways to Secure Your Home Network
Luckily, securing your home network can be quite simple. Putting even one of the suggestions below into practice could help strengthen your home security.
1. Change Your Username & Password
Right after installation, it's essential to change the preset passwords on your WiFi router, which hackers can easily find online like any other user. Securing your equipment consists of two passwords: the WiFi network password and the router administrator password.
We recommend changing your passwords monthly or bi-monthly. The easiest way to maintain this is by using a password manager.
Though it's tempting to use a name or birthday, we'd steer clear of those. Instead, a strong password should be a random sequence of letters, numbers, and even symbols.
2. Keep Your Router & Firmware Updates
Generally, the most interaction we have with a WiFi router is the occasional turn it on and off routine when it's giving us trouble. However, router neglect could prove damaging and put all your sensitive information at risk. Just think, everything we do passes through that device. So, in this case, new is always better.
You want to choose a router with the latest technology. To update, you can go to the manufacturer's website to see if a newer version of your specific software is available to download. This will help you make sure to keep up with all the latest updates.
It also never hurts to register your router with the manufacturer during setup. If you're willing to go deeper, you can look at custom firmware and experiment with advanced security settings. DD-WRT and Tomato have been known to have easy installation setup and user-friendly interfaces, which can add an extra layer of security against cyber attacks.
3. Change the SSID Broadcast Name
Also known as a "Service Set Identifier," an SSID displays the name of your network in a list of available networks in the area, which allows any nearby user to try and connect. This is why it's important for you to change it from the default name. I'm sure you've seen a network simply labeled link-sys or link4.
At the very least, we recommend updating your username and password on your WiFi router. This will deter outsiders from trying to access your private network.
4. Choose a Strong Type of Router Encryption
In addition to changing your WiFi router password and SSID, you can choose your router's security protocol. Routers come with different types of encryption to help secure data transferred between a network and the internet. Options may include: WEB, WPA, WPA2, or WPA3.
WEB (Wireless Equivalent Privacy) is obsolete today due to its known security flaws. The most commonly used is WPA (WiFi Protected Access) or WPA2. WPA3 is the newest and strongest level of encryption for WiFi security. Encryption jumbles all the digital information sent back and forth, making it another valuable step in keeping your network safe.
5. Invest in Security Software
If you want protection at the device level, internet security might be for you. This software helps protect devices against cyberattacks like malware, phishing scams, and viruses. The best security suites will also cover all of your devices at once and usually come with bonus features like identity theft protection, password management, and parental controls.
Many internet service providers actually offer internet security as an add-on service. For example, HughesNet often partners with Norton 360 to provide internet customers with an extra layer of security.
6. Create a Guest WiFi Network
A guest WiFi network allows you to manage all users on your home network, so family, friends, and anyone in your home can access the internet, printers, shared folders, and other smart devices without having sensitive information leaked to an unwanted guest.
Setting up guest WiFi takes less than five minutes and offers two main security benefits. First off, having a separate login keeps your main passwords secret. Secondly, if a guest has malware on their device, it won't get your other devices into the primary network.
7. Disable WiFi Protecte Setup (WPS)
WPS (WiFi Protected Setup) usually comes as a default setting with many routers. It allows users to automatically connect to a network. Even though this makes connecting to WiFi quicker, any device within range can access the network without the password when WPS is on.
While it seems convenient and user-friendly, it's a massive privacy risk. Even the most unskilled hacker can crack the WPS, which makes using WPS an unsafe option.
8. Beware of Phishing Scams
Unfortunately, phishing scams are a common tactic hackers use. These scams usually appear in the form of an email or push notification, prompting an individual with false questions or login alerts.
It's a good rule to never enter your username or password online to "confirm who you are," unless you recognize the URL. In actuality, you could be sending important information directly to a scammer, who can then access your personal accounts without you being aware of it.
9. Use a Reliable VPN
To protect your family's online privacy further, we recommend using a top rate VPN (virtual private network). Not only can it mask your IP address, but most VPN providers have security features like antivirus software or adblockers to thwart online threats. Although not impenetrable, a VPN gives you another layer of protection. Some of the best full-featured VPNs available today include NordVPN and IPVanish.
10. Turn off Remote Viewing & Plug-n-Play Features
Sometimes, in making things easily accessible and convenient for ourselves, we lose our safety and privacy around others. When it comes to your home internet, features like Remote Management and Universal Plug-n-Play (UPnP) do just that. These tiny conveniences are nice to have in the moment, but they can make room for weak spots in our home network. Turning off or disabling any remote viewing or plug-and-play features is always recommended.
Final Thoughts
In most cases, the easier it is for you to access your network, the easier it is for a stranger to do the same. Try and get comfortable experimenting, troubleshooting, and customizing your network settings, and stay on top of software updates and new firmware releases as best you can.
Every step that is taken adds another layer of protection between you and unwanted guests—keeping your valuable information safe and private as it should be.
Find providers in your area