Watch Top Netflix Originals for Free
HighSpeedOptions prides itself on providing honest, quality content. While we may be compensated when you make a purchase through links on our site, all opinions are our own. Here's how we make money.
Netflix has come a long way since the days of DVD rentals being delivered by mail. In 2019, 85% of US streaming subscribers subscribed to Netflix. If you're among the 15% that doesn't currently have a Netflix account, you can still enjoy the streaming service and some of the best Netflix original series and movies for free.
How to Watch Netflix for Free
Last month, Netflix launched a "watch free" section that allows non-subscribers to — you guessed it — watch Netflix for free. Top Netflix originals like Bird Box, Stranger Things, and Love Is Blind are all available to stream without logging in. Sound too good to be true? Well, unfortunately only the first episode of each series is available for free. To watch, you have to use a computer or Android phone browser. The Netflix mobile app and iPhone browser don't allow you to access this free content yet. If you're contemplating subscribing to Netflix, this free version will give you a good taste of Netflix's original content.
Stranger Things
Stranger Things was the most-viewed original series in 2019, with 64 million views. The Netflix sci-fi and fantasy series has three seasons, with season four already confirmed. Season one starts with the disappearance of a young boy, Will Byers, in a small Indiana town. Will's mother Joyce (Winona Ryder) starts a search with the help of Will's friends and Chief of Police Jim Hopper (David Harbour). While searching for Will, the group uncovers government secrets and experiments, supernatural forces, and an unusual girl named Eleven.
When They See Us
This drama follows the true story of five teens (The Central Park Five) from Harlem who are falsely accused of a brutal attack in Central Park in 1989. The cast includes Emmy nominees and winners like Michael K. Williams, John Leguizamo, Felicity Huffman, and Blair Underwood.
Love Is Blind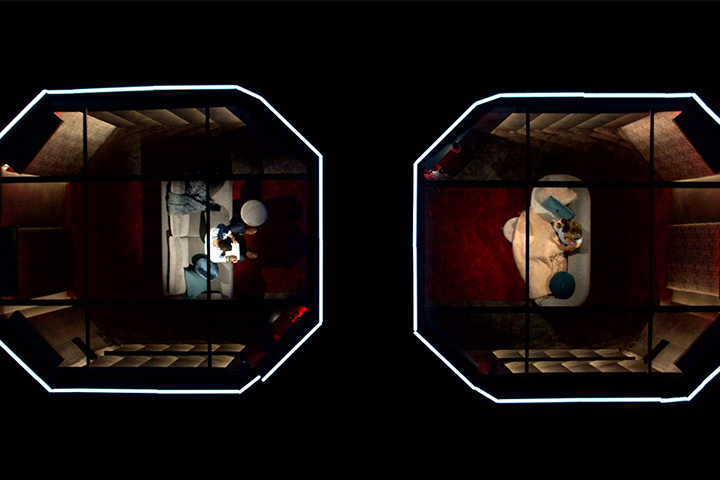 Love Is Blind is a dating reality show hosted by Nick and Vanessa Lachey. In this "social experiment," single men and women try to find their match by dating in "pods" where they don't get to see each other face-to-face — placing an emphasis on emotional connection over physical attraction.
Our Planet
Our Planet is an Emmy-winning docuseries that showcases Earth's natural beauty while examining how climate change impacts all living creatures. In eight episodes, viewers get a closer look to various environments ranging from "Frozen Worlds" and oceans to jungles and deserts.
Grace and Frankie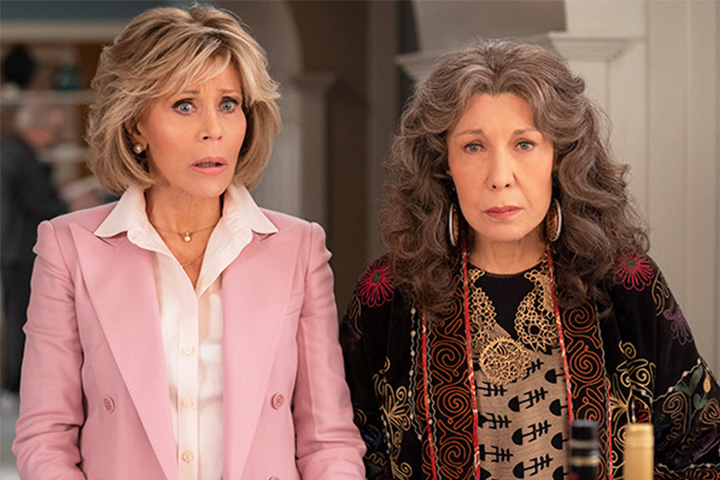 The Emmy-nominated comedy series follows long-time rivals Grace (Jane Fonda) and Frankie (Lily Tomlin). They're forced to put their differences aside when they learn that their husbands (Sam Waterson and Martin Sheen) have fallen in love with each other and want to get married.
Bird Box
Bird Box was the most-viewed original film in 2019, with 80 million views. In the post-apocalyptic thriller, a mysterious force wipes out the population by forcing those who look at it to go crazy and commit suicide. A woman (Sandra Bullock) and her children go on a dangerous journey to find a known sanctuary, but have to make the trip blindfolded to stay safe. The star-studded cast also includes Trevante Rhodes, John Malkovich, Sarah Paulson, Jacki Weaver, Rosa Salazar, Lil Rel Howery, BD Wong, and Machine Gun Kelly.
Murder Mystery
Murder Mystery is a comedy/mystery film starring Jennifer Aniston and Adam Sandler as a couple from NYC heading to Europe for their anniversary. On their flight, they become acquainted with an elderly billionaire who invites them aboard his yacht. The celebration is halted when the billionaire is murdered and they find themselves framed as the prime suspects, forcing them to scramble to solve the murder.
The Two Popes
Inspired by true events, The Two Popes takes place in Vatican City in the wake of the Vatican leaks scandal. The movie follows Pope Benedict XVI (Anthony Hopkins) as he tries to convince Cardinal Jorge Mario Bergoglio (Jonathan Pryce) to reconsider his decision to resign as an archbishop.
Interested in popular TV shows available on other streaming services? Check out the HighSpeedOptions team's current binge-worthy favorites.
Enter your zip code to see providers near you