TV
The Best Cable TV Providers of 2021
Remember the days when kicking back and watching TV meant you could stop thinking? Life is filled with tough decisions, but watching TV shouldn't be one of them.
The positive to having so many choices is that TV is better than ever, especially cable. Vastly improved technology, more channels, special promos, customized packages, life-like pictures, mobile apps, live-streaming, and you don't even need to be present to watch your favorite shows anymore. Yup, that's right — break out the DVR, record them, and watch on your schedule.
So many options and choices. Choosing the best cable provider and package for your needs, while avoiding costly pitfalls, can feel like trying to land the lunar space shuttle blindfolded.
This doesn't need to be the case. In researching The Best Cable TV Providers of 2021, we break down the prominent cable TV providers highlighting their strengths and weaknesses, while delivering some helpful tips to guide you in selecting the best provider for your needs.
Are you ready? OK, let's dive in.
Xfinity
Xfinity is available in 39 states with packages running from $39.99 to $59.99 that offer between 125 and 200 channels. They offer no-contract options and easy ordering and self-installation instructions at xfinity.com, with regular installation costing $50.
Pros
Strong price-to-channel ratio with even the basic package including more popular channels
Excellent nationwide availability
X1 Xfinity DVR capability is top-notch with more storage and can record six shows at once
The option to choose any TV package a la carte without bundling requirements
Cons
Fees, fees, and fees (examples include $10/month for High Definition, $20/month for DVR, and $5.99 to $9.99/month for multiple receivers)
Scores on the lower end with a 58/100 American Customer Service Index (ACSI) score
Spectrum
Spectrum is available in 37 states with packages ranging from $44.99 to $89.99 for 125 to 200 channels. Many people use Spectrum internet for their online needs, but Spectrum cable offers discounted bundles with the standard $35 installation fee waived for these customers. Spectrum doesn't require a contract. Add-ons like DVR are extra ($13/month), but HD is free.
Pros
Cheaper starting packages
Upper-tier packages deliver good value especially on premier channels at lower prices
Significant savings offered on bundled packages
Better than average customer service with a 63/100 ACSI score
Cons
Only one stand-alone TV package
Numerous sign-up discounts that can expire without notice resulting in a higher bill than expected
Cox
Cox is available in 18 states with two packages starting with the basic TV Starter package priced at $25, and the Contour TV package priced at $69.99. Cox cable delivers 75-140+ channels in their two packages with the option to add sports, movie, or variety channels for $10/month. The Contour Record-6 DVR does just as the name suggests — records six shows at once for a price of $19.99/month. HD will run you an extra $8.50/month.
Cox Communications professional installs run a robust $75, or the DIY option is available for $20 and comes with an extensive resource library of helpful guides for the DIY customer online.
Pros
Lower prices with customizable upgrade options for the budget-conscious
Higher rated customer service with 63/100 ACSI score
Robust online resources for DIY options
Cons
Most of the add-on options are limited to the higher-priced Contour package
Add-ons can end up making the price much higher than advertised
$20 DIY fee
Optimum
Optimum is available in a small market consisting of four states with three packages ranging from $59.99 to $109.99, which provide 220 to 420 channels. There is no contract required with Optimum cable, and the TV packages can stand alone or come in a bundle. They charge extra for premium movie packages ($9.99/month) and sports packs ($15/month). They also charge for DVR service ($17.99/month) and additional devices added ($11/month).
Pros
Packages offer a wide variety of channels
Customer service ranks higher with 61/100 ACSI score
The flexibility of a no-contract option
Cons
Optimum online & cable is only available in four states in the northeast
Limited bundle options
Frontier
Frontier is available in 29 states with customers having a choice between FiOS TV or Vantage TV depending on location. Both deliver service by state-of-the-art fiber optic cable, and there's no contract required for service. Installation is $80 but can be waived with the selection of a TV/internet bundle, which starts around $62.99 and can include free routers and a year of Amazon Prime on the house. Frontier cable packages and bundles vary by location, so the website requires a customer zip code to get plan info and accurate pricing. Frontier's extra charges can include HD ($10/month) and a DVR rental fee ($15/month).
Pros
Fiber optic cable service
Reasonable bundle prices and promotional offers
Frontier Prime Plan provides up to 60% of the most popular channels
Cons
Average ACSI score of 60/100
Inability to get TV package info without calling customer service
Mediacom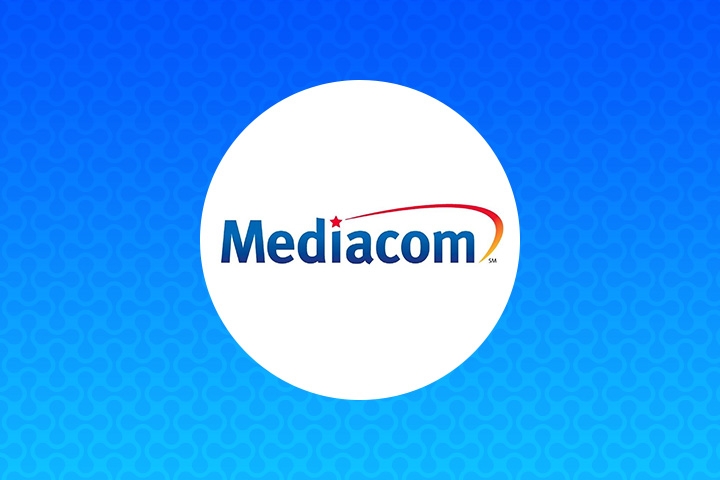 Available in 22 states, Mediacom cable offers TV packages only in bundle options with Mediacom internet and phone service. The bundled packages range from $49.99 for basic local channels with internet service to $89.99 for phone, internet, and up to 170+ channels. You can add Digital PAK add-ons like premium movie networks ($19/month) and sports and variety options ($8/month). HD costs extra ($7/month), and there's a DVR rental fee ($15/month). Mediacom requires a one-year contract and has a $99 installation fee, which new customers often get waived.
Pros
Wide variety of customizable add-on packages
Customer-friendly flexibility with the installation schedule
Cons
Forced bundling
Required one-year contract
Industry low ACSI score of 56/100
Midco
Midco is available in five midwestern states with packages ranging from $59.95 to $119.95 that provide from 210 to 350+ channels. The two higher-priced premium options offer movie buffs the Theatre and Ultimate Theatre Suite. Sports and variety packages cost extra ($9/month) as well as exclusive premium channels ($16/month).
Pros
No contract requirement
Wide variety of customization options
Cons
Higher basic package pricing
Midco cable is only available in five midwestern states
RCN
Available in four eastern states and the District of Colombia, RCN cable is a minimalist's dream offering only one stand-alone TV package which provides 297 channels for $59.99. This Signature Plan offers numerous popular channels and requires no contract or cancellation fee should you decide to end the service. Another five TV packages do exist for customers willing to bundle. Premium channel packages are available for up to $15.95/month. Installation is a charge, but RCN makes coupons readily available, so there's no reason to ever pay for this service.
Pros
No contract and easy cancellation policy
Wide variety of popular channels, ability to customize plans, and savings with bundling
Cons
Industry-leading DVR rental fee of $25 and an assortment of other fees like a $2-$6 HD converter fee
Only available in four eastern states and District of Columbia
Parting Thoughts
When it comes to cable providers, there are many factors to consider. Below are some insider tips to keep in mind when selecting your cable TV provider.
Search Your Region: Cable TV coverage is regional, so do your homework on all options in your area. You probably will have at least one or two larger players available, but don't overlook the smaller local options, like Grande Communications in Texas, that serve your community.
Develop a Priority List: Take time to identify what's essential in your cable customer experience. What matters most to you? Price? Channels? Flexibility? Customer service? Study your user habits, track your most-watched channels, and then seek the packages that offer more of these for the best price.
Watch the Fees: Most providers seem to have a menu of add-on charges that can accumulate quickly. Ask upfront to avoid the surprise of unexpected fees bloating your bill.
Maximize Promo Offers: Keep your eyes open for special offers that can sweeten your deal. Many providers will waive installation fees for first-timers or those willing to bundle services. Others will offer free trials for premium channel packages — remember to make a note of expiration dates on these specials to avoid unwanted charges.
Consider Bundling Services: Yup, there's no doubt that most cable providers want ALL of your business. If you're open to having your phone, internet, and cable with the same provider, bundling can save you money.
Navigating the maze of cable companies today certainly can be overwhelming, but you're now well-equipped to make smart consumer decisions, so sit back and relax — enjoying TV can be easy again.